Your trusted safety companion
Ultimate protection in one push of a button
Maximum strenght pepper spray, powerful built-in 130 dB siren to attract attention, and strobe LED light to make it easier to aim in the dark, attract attention, and disorient the attacker.
Powerful defense and effective marking
Every Plegium Pepper Spray comes with our superior, patented, and sustainable pepper spray liquid. The spray will last for 10-15 seconds of continuous spraying and has an added highly concentrated red dye and a UV dye, to mark the assailant.
MORE ABOUT OUR PEPPER SPRAY
Ultimate deterrent and alert
In addition to blinding the attacker with pepper spray, it is important to attract attention to the scene.
The built-in siren is louder than any other standalone personal alarm on the market and the sound has been tuned to resonate at frequencies where the human hearing is the most sensitive.
Guiding light with disorienting brilliance
Assaults often occur when it is dark outside. To make it easier to aim, several of Plegium's pepper sprays are equipped with a very bright LED light.
When you fire the pepper spray, the light comes on. This enables clearly seeing the spray jet and helps you adjust your aim faster. The LED light also blinks (19 times per second), which has a proven disorienting effect on the attacker.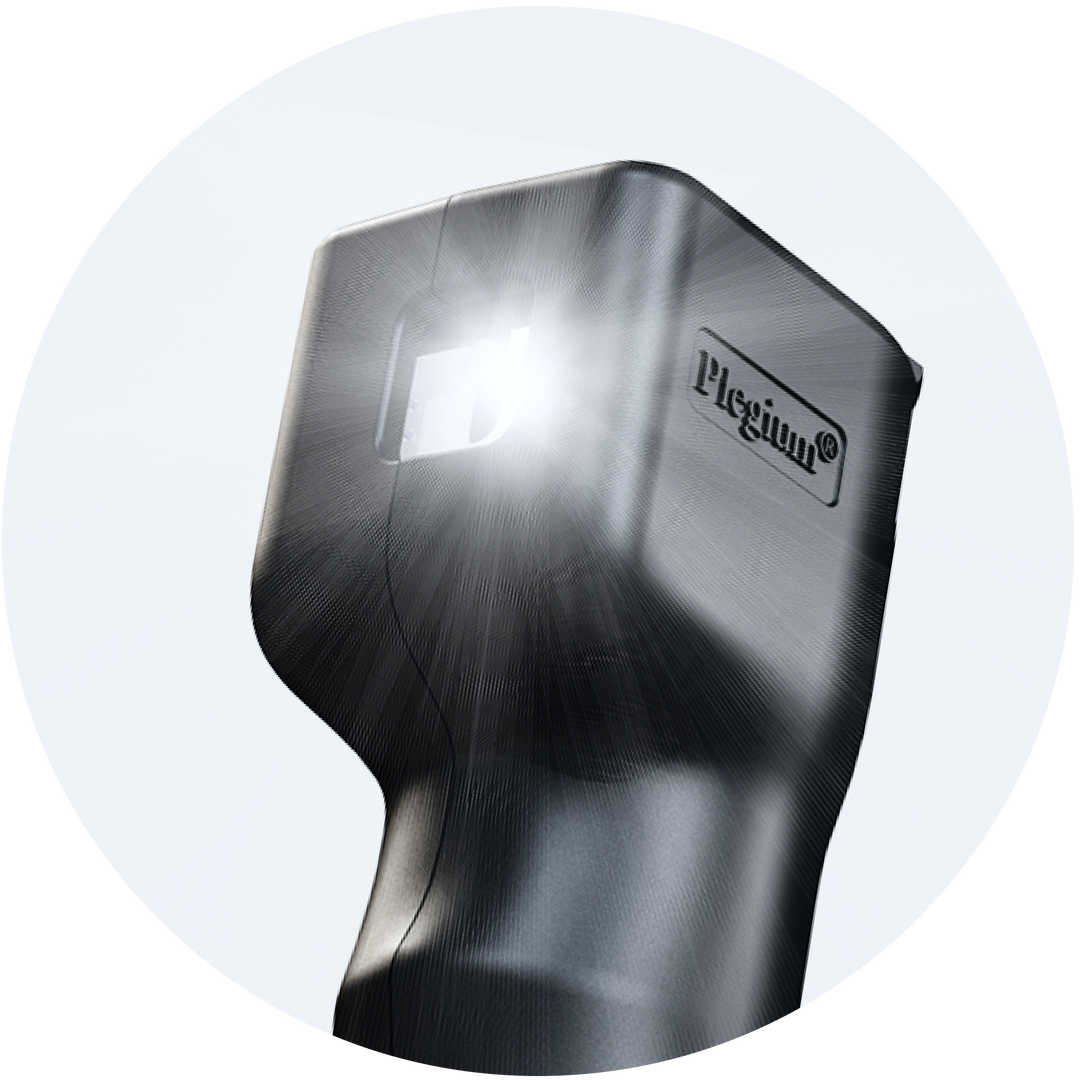 Effortless access
Our unique magnetic quick-release keychain enables detaching the spray with one hand.
Simply hang your Plegium Pepper Spray on your keychain or on the inside of your handbag. If you need to use it, just pull it off - the keychain splits, so that you can quickly get the spray out.
Explore other products



Smart Pepper Spray
Defend with confidence using our feature-packed pepper spray – maximum strength, red UV dye, siren, strobe light, and automatic location alerts.

Smart Emergency Button
Portable, silent alarm keychain – 4-year battery life, instant GPS location texts, and phone calls to emergency contacts.
Get a new one for free!
All Plegium pepper sprays are in effect one-time use. If you've had to use a pepper spray, it's important that you get a new one.
Luckily, Plegium has a unique guarantee: If you have to use your device and it resulted into a police report, please submit a copy of the report and we will send you a new product for free.
FAQ
How long do Plegium pepper sprays last?

The shelf life of all Plegium pepper sprays is 4 years. The expiration date of each spray can be found under its flip top safety lid.
How can I test my Plegium Combo Pepper Spray?

You can test the siren and LED light of your Plegium device without triggering the actual pepper spray (which you want to save in case you'd have to use it in an emergency situation).

To test the device, slide down the test switch on the side of the product for 10 seconds, then slide it back up.
Can I bring my Plegium pepper spray when traveling abroad?

Laws regarding pepper spray vary by country, so we do not recommend bringing it with you on your travels.

Additionally, our sprays are considered aerosols and are not allowed in the cabin of an airplane. It's important to check the regulations of your destination before traveling with pepper spray or any other self defense product.
What is the spray pattern of my Plegium pepper spray?

The Plegium pepper spray features a "stream" spray pattern, which has a good balance between range (reaching up to 15 feet) and accuracy (compared to a cone spray pattern), with low risk of blow-back compared to a gel spray pattern.

You can read more about our pepper spray and it's spray pattern in our pepper spray guide.
Do you have any questions?
If you have any questions feel free to contact us. Also you can check our FAQ